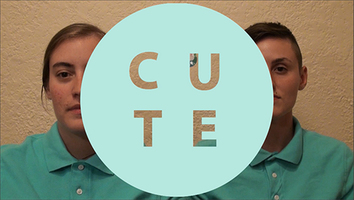 C.U.T.E Collaborative Residency
C.U.T.E Collaborative
September 14 - October 12, 2013
Stay Tuned for a list of events!
C.U.T.E. is a collaborative project made up of Kelsey Harrison and Brynn Trusewicz. C.U.T.E draws on Harrison and Truesewich's mutual background in sculpture and social anxiety. Working collaboratively pulls from different elements of disparate practices to create a third and new body of work.
Working as a duo changes the focus of the work from personal experiences
to shared experiences. C.U.T.E. situates itself in the intersection of Social
Practice, interactive art, and Relational Aesthetics, and counters art that we
perceive as inaccessible. Our work assumes that people are fearful, because we
are.

We assume that people want intimacy, and are lacking it.
We assume that people don't know how to approach each other, but want to.
We assume that, given the permission and proper framework, people will be eager to know each other.
We assume that something good comes from the practice of becoming intimate with people.
We assume that intimacy is something to be sought after.

We assume that if a person isn't seeking intimacy, it is
because they already have "enough".
We assume that the only reason people wouldn't seek intimacy
is fear.
We assume that there are environments, processes, and
objects that we can create to quiet, distract from, and fool fear.
We assume that we are providing a needed service.

About C.U.T.E.
C.U.T.E. founders and collaborators Kelsey Harrison and Brynn Trusewicz are Port Chester residents and come to us from Purchase College School of Art+Design, Trusewicz is recent BFA grad, and Harrison is in her final year of her BFA. While MAPSpace hasn't worked with students in our exhibition and residency programs before, we were so interested in C.U.T.E's proposal that we will open our fall season with their project. A month-long art coffee house filled with a sense of play, C.U.T.E. will offer a series of events, happenings, discussions, and a culminating micro-granting dinner and gallery talk. They will invite a diverse group of the public into the gallery for experiential activities that investigate and offer alternatives to our sense of displacement, social anxiety, and desire for community. Widening the question of What is Art?, C.U.T.E. welcomes you to join us for some interactive,
provocative, fun!
See their Indiegogo crowd-funding video HERE! Help support their residency- All moneys go directly to the artists to fund their project at MAPSpace.
You can see more about C.U.T.E's activities at their website cargocollective.com/cute