Aurora under the
Midnight
Sun
A Diptych of the Arctic
Jisun Beak and Kwantaeck Park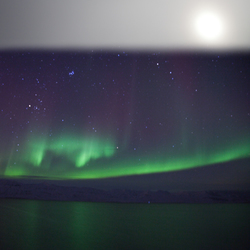 Artist in Residence March 25 - April 30, 2016
PLEASE NOTE DATE CHANGE!
Reception and Gallery Talk with the Artists
Saturday, April 30, 6-8pm
Exhibition on view April 30 - June 1, 2016
Contact us to visit the artists at work.
In conjunction with the Residency Project
Remote Landscapes: Poetry + Performance + Art
Sunday, May 22, 1-3 pm
free of charge and open to the public
New and original work by poets and performers in conjunction with the installation.
Poets & Performers:
Kristin Prevallet,
Kristina Bicher, Regina Marie, Q
uincy Scott Jones, Ryann Slauson.
Event curator, Kristina Bicher
Miranda Arts Project Space is thrilled to present our seventh Collaborative Workspace Residency and Exhibition, featuring artists Jisun Beak and Kwantaeck Park. Join us for an opening reception and gallery talk with the artists on Saturday, April 30, from 6-8pm. The reception is free and open to the public.
A journey of Kwantaeck and Jisun to the arctic is like diptych, two separate paintings that are considered as one. Kwantaeck Park and Jisun Beak applied together, as a married couple, to the Arctic Circle Expedition residency. They were offered different years of participation and went individually, resulting in separate experiences with overlapped and shared memories, and a disjointed sense of time and space. During the residency they will create work about these two weirdly shared but disjointed travels to the same location in their first collaboration project as visual artists.
Inspired by the book
Between Calm and Passion,
co-written by Japanese writers, Kaori Ekuni and Hitonari Tsuji, which describes a relationship from two different perspectives, the artists will create works based on their two sets of diaries, drawings, photos and videos taken during their separate 17 days of the expedition. Describing a common experience from two different perspectives and times, the collaboration will contain impressions of mother nature and the end of the world as well as reflections of the self that are found during temporal stays in remoteness and isolation.
The exhibition will include drawings, sculptures and installation, which will culminate in a film. The film will be created out of two different sets of footage taken during each trip. Mixing two different time frames in the same location, the film will reveal the uncanny, mixed sense of time and space experienced by the sharing of their individual residency.
Kwantaeck Park was the participant of the Arctic Circle residency in October 2014, and Ji Sun Beak a participant of same residency program in June 2015.
http://www.thearcticcircle.org/