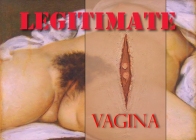 LEGITIMATE VAGINA: women artists explore vagina imagery
LEGITIMATE VAGINA: women artists explore vagina imagery
On view October 13 - 20, 2012
Artist reception
Saturday October 13, 6-8pm
Pussy Talks: A panel discussion Saturday October 20, 5-7pm
All events are free and open to the public.

Refreshments will be served.

Watch the gallery talk
here
.
Artists: Alexi Rutsch Brock, Mia Brownell, Carissa Burkett
Marcy B. Freedman, Cristina de Gennaro, Natalie Giugni
Jenna Kelly, Sasha Kopelowitz, Fay Ku, Patricia Miranda
fierce pussy, Katrina Rhein, Mira Schor, Kiki Smith
Amy Swartele, Rachael Vaters-Carr, Faith Wilding, Tricia Wright
Curated by Alexi Rutsch Brock, Mia Brownell and Patricia Miranda
Legitimate Vagina features seventeen women artists and one collective who explore the image of the vagina in both symbolic and personal ways, through painting, drawing, mixed-media, sculpture, installation and performance. The title of the show was inspired by a comment by Todd Akin, United States congressman and House Committee on Science and Technology member in August 2012, "If it's a legitimate rape ... the female body has ways to try to shut that whole thing down." Questions of who gets to speak about women's bodies and their experience are fundamental to this exhibition and the Pussy Talks. The exhibition LEGITIMATE VAGINA presents works exploring vagina-inspired imagery with intelligence and humor, investigating through visual means issues of women's rights, current politics, and personal experience.
For more information about Pussy Talks click
here.
See more Vagina Imagery at the
Facebook
page for the show.
Click
HERE
for a free PDF download of the catalog of the exhibition.
Click
HERE
to purchase a hard copy catalog on blurb.com.