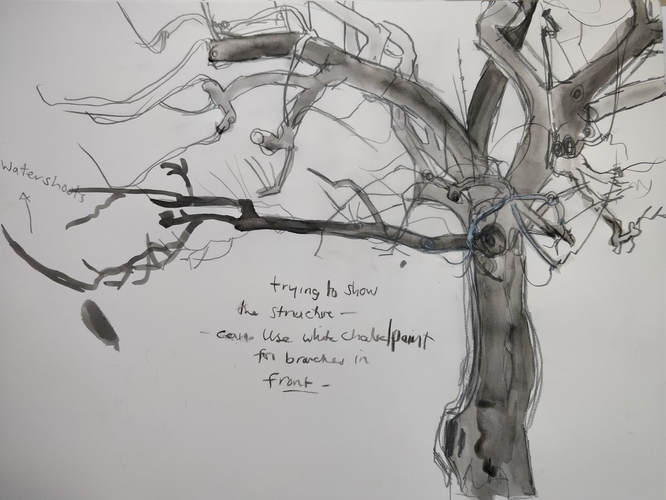 The Amber Tree - Drawing Rites
Workshop:
Part I: Wednesday- Friday Nov 6-8, 10am-4pm
Led by Artist and researcher Angie Brew, PhD
Part II: Saturday Nov 9, 10am-4pm & Sunday Nov 10, 10-1
Led by Artist researchers Angie Brew, PhD, and Andrea Kantrowitz, EdD

Pop-up Exhibition, Reception & Panel Discussion
with Brew, Kantrowitz, and director of MAPSpace Patricia Miranda
All drawings from the workshops included in the popup exhibition.
Sunday 2-4pm
Reception/panel discussion is free and open to the public.

Workshop I: Contribute to the worldwide collaborative drawing The Amber Tree, a never-ending drawing to honour and commemorate those we have lost –humans, animals, trees. Participants contribute to a monumental tree drawing, installed in the gallery for the week, drawing new branches and images of loved ones they have lost.

This 3-day workshop will utlize Angie Brew's method of slow observational drawing developed during her PhD research on drawing pedagogy and cognition, called The Seeing Hand. Participants create observational and collaborative drawings both independently and together, and 'grow' the Amber Tree. Participants may bring a photo of a lost one, tell stories, and draw. Weather permitting, we will draw outside and in alternative venues.

Workshop II: Angie Brew and Dr. Andrea Kantrowitz, PhD will teach about their 'Thinking through Drawing' practices, and explore how drawing can help us understand and problem solve. The focus will be embodied drawing practices, and includes lecture, discussion, and drawing.

The two sessions culminate in a pop-up exhibition including The Amber tree and all drawings done during the workshops. A free panel discussion and reception will be

The Amber Tree came into being at a funeral of a young British artist, Matthew West, who died suddenly in April 2018. His memory is embodied as a drawing of an owl in the Amber Tree.

See more about their collaborative work at http://www.thinkingthroughdrawing.org

Cost:
Full program: Wednesday – Sunday: $400
Workshop: Wednesday – Friday: $250
Saturday – Sunday: $250

Brew's art practice explores our relationship with trees, traditional collaborative arts and crafts practices, and the role of drawing in rituals. In November 2011 she had the honour of holding a funeral for her Uncle at the British Museum, as part of Grayson Perry's Exhibition "The Tomb of the Unknown Craftsman". The funeral was a collaborative art event, with friends and family, to commemorate his life.

Angie Brew is an artist, researcher and drawing teacher. She holds a Drawing MA with distinction from Camberwell College of Art, UAL, London. For her doctorate she worked in the Drawing & Cognition Project, Camberwell, researching enactive observational drawing methods and pedagogy. This resulted in a new cognitively-informed approach called 'Drawing Growth', synchronising eye and hand. Her art practice explores drawing for well-being, and close observational drawing of growth processes. She is artist in residence in a community greenhouse in Brixton, London, where she leads a collaborative Drawing Growth project and a weekly drawing club. She runs a new interdisciplinary research project called Drawlearn, exploring how drawing enables and enhances learning 'across the board'.

Andrea Kantrowitz is an artist, educator and researcher who uses cognitive psychology theories and methods to study the hidden dynamics of artists' thinking processes. Her work includes a randomized control trial that demonstrated the impact of an interdisciplinary art curriculum for students growing up in poverty. She has lectured and led workshops on art and cognition internationally. Kantrowitz believes drawing represents a solid example of human imagination at work.

She is the graduate program coordinator and assistant professor in Art Education at the State University of New York @ New Paltz. As director of the Thinking through Drawing Project at Teachers College, Columbia University, she organized a series of international drawing and cognition research symposia, in collaboration with colleagues from the U.K. She holds a B.A in Art and Cognition from Harvard University and a MFA in Painting from Yale. She has taught foundation drawing at Pratt Institute in Brooklyn and graduate courses in contemporary art at the College of New Rochelle. She was a teaching artist in the New York City for many years, involved in multiple local and national research projects. She recently completed an interdisciplinary doctorate at Teachers College which examined the cognitive interactions underlying contemporary artists' drawing practices. Her blog is Zyphoid.com and her own art work is represented by Kenise Barnes Fine Art.