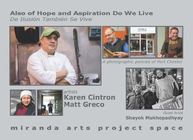 12/7/13 Reception and Artist Talk with Karen Cintron & Matt Greco
Also of Hope and Aspiration Do We Live
De Ilusión También Se Vive
Collaborative Workspace Residency
Karen Cintron and Matt Greco

Guest Artist: Shayok Mukhopadhyay
People of Port Chester

Reception and Gallery Talk
December 7th, 2013 5pm

"Also of Hope and Aspiration Do We Live", or De Ilusión También Se Vive, a Spanish expression which roughly translates to life is not only about "getting there" but also about "dreaming of getting there". This residency and exhibition of photography and recorded interviews explores and celebrates the entrepreneurial spirit of the Port Chester's immigrant owned businesses, especially although not exclusively the Latin American community.

In concert with Karen & Matt's exhibition guest artist Shayok Mukhopadhyay will show images from his Port Chester based photography project.

Shayok Mukhopadhyay is a documentary photographer and filmmaker. He was born in India and lives in White Plains, NY.
Join us for a reception and gallery talk, to hear the artists speak about their work.
For more information about the exhibition, visit the exhibition page.