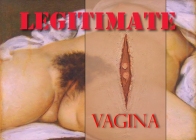 Pussy Talks
Saturday October 20, 5pm.
Free and open to the public.

Pussy Talks: A panel discussion
Refreshments will be served.

Pussy Talks are inspired by events in 2012, including statements about women's bodies made by male American politicians and the arrest of Pussy Riot Group in Russia. The Pussy Talks Series aims to spark new dialogue among women and those who love them about the current public use of women's bodies as a tool of politics and violence, and create platforms for women's voices to be heard. Cognizant of all the women who fought before us for legal and civil rights, and those in the world who struggle to gain them, Legitimate Vagina is yet another rallying cry for women in 2012 to not to be silenced by ignorance, shame, and fear, and to be empowered through dialogue for a better world for all women.

Pussy Talks Panel:
Rebecca Chalker, Ph.D. in Sexology and adjunct faculty at Pace University in New York City and at Florida State University in Tallahassee teaching "The Cultural History of Sexuality." She is a certified sexuality counselor and author of the book, The Clitoral Truth.

Jennifer A. Hudson, M.A. English and Advanced Graduate Certificate in Women's Studies from Southern Connecticut State University, B.A. in English magna cum laude from Sacred Heart University, finalist for the 2009 Rita Dove Poetry Award. Hudson will read her poem "Unstill Volcano" to start the talk.

Tricia Wright BA (Fine Art (Hons)) at Camberwell School of Art, London, PG Dip. (History & Theory of Modern Art) at Chelsea School of Art, London. Wright is an artist and author of American Art & Artists (Harper Collins, 2007) published in association with the Smithsonian Institute.

Moderated by Patricia Miranda, co-curator, artist and director of Miranda Arts Project Space, and Visiting Assistant Professor in painting and liberal arts at Lyme Academy College of Fine Arts in Old Lyme CT.

Below is Jennfer Hudson's Poem, Unstill Volcano, read at Pussy Talks
Unstill Volcano

Jennifer A. Hudson
Vesuvius, my home,
glowing valley with luscious lips
never lying still,
and tremors making magma flow:
I'm coming.
I'm here
with pressure building behind my corals,
pulling open my plates,
gliding along my soft edges,
sliding into my cavern,
parting my hot spots,
shutting out the world,
oozing
away,
with pleasure let through,
my self
no longer concealed,
but found.